ScoutWired has chosen to use Discord as a communications platform because of the level of safety and security available for people.
Once you have installed Discord on your computer, phone or device, and joined the ScoutWired discord server You will need to adjust the security settings from default.
To do that follow these steps:
At the top of discord click on the server name "ScoutWired" and select the option "Privacy Settings".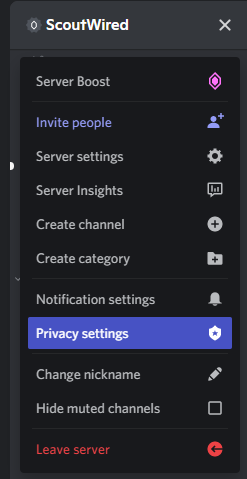 Ensure that "Allow direct messages from server" members is greyed out.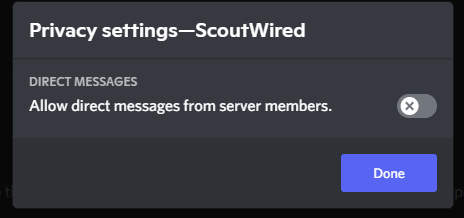 Once that is done click Done.
This will stop users from being able to send you private/direct messages, and stop people who you do not know from adding you to their friendlist (which allows them to private/direct message you regardless if the setting is turned off).
That's it!! You are all safe and ready to chat on our Discord server!!
Parents: Discord has a great guide for parents and Discord Chat from a parent who's teen regularly uses Discord.
Alternatively, if you wish to disable this for all servers, you can do this from your user settings.

Select "Privacy & Safety"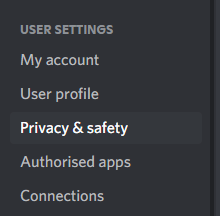 Ensure "Keep me safe" is selected and "Allow direct messages from server members" is disabled/grey.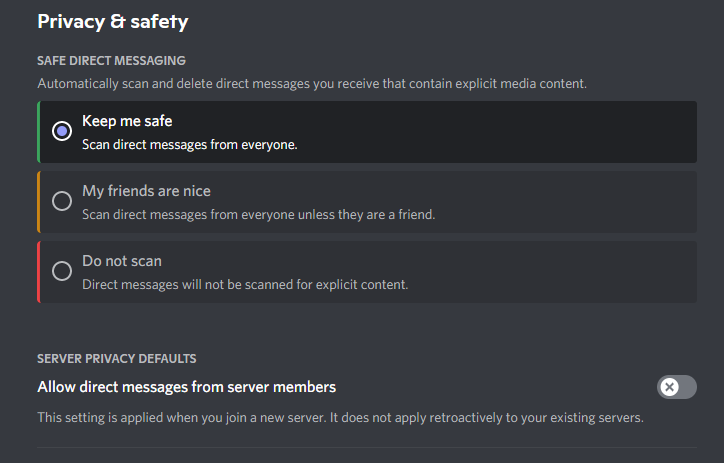 That's it